GARDENA Filter / Stream Pump FSP 2000 Art. 7878, FSP 3000 Art. 7879, FSP 5500 DUO Art. 7880,  FSP 8000 DUO Art. 7881, FSP 15000 DUO Art. 7882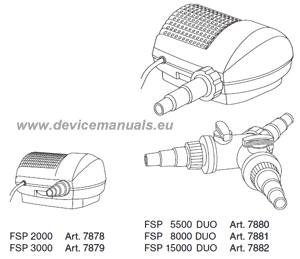 Download user manual
The GARDENA Filter / Stream Pump is intended for domestic use. It is not designed for operating watering tools and accessories or irrigation systems. The pump can be used both indoors and outdoors.
The pump is intended for pumping dirty water or for use with streams.
The universal connector 1 can be used to connect 3/4" (for FSP 2000 / FSP 3000 only ), 1",1 1/4" and 1 1/2" hoses.
To achieve the best pumping results (maximum delivery rate of the pump) use a 38 mm (1 1/2")-hose.We recommend that you secure all hoses using GARDENA Hose Clips art. no. 7192 – 7195.