iQ700
Washing machine, front loader
10 kg
1400 rpm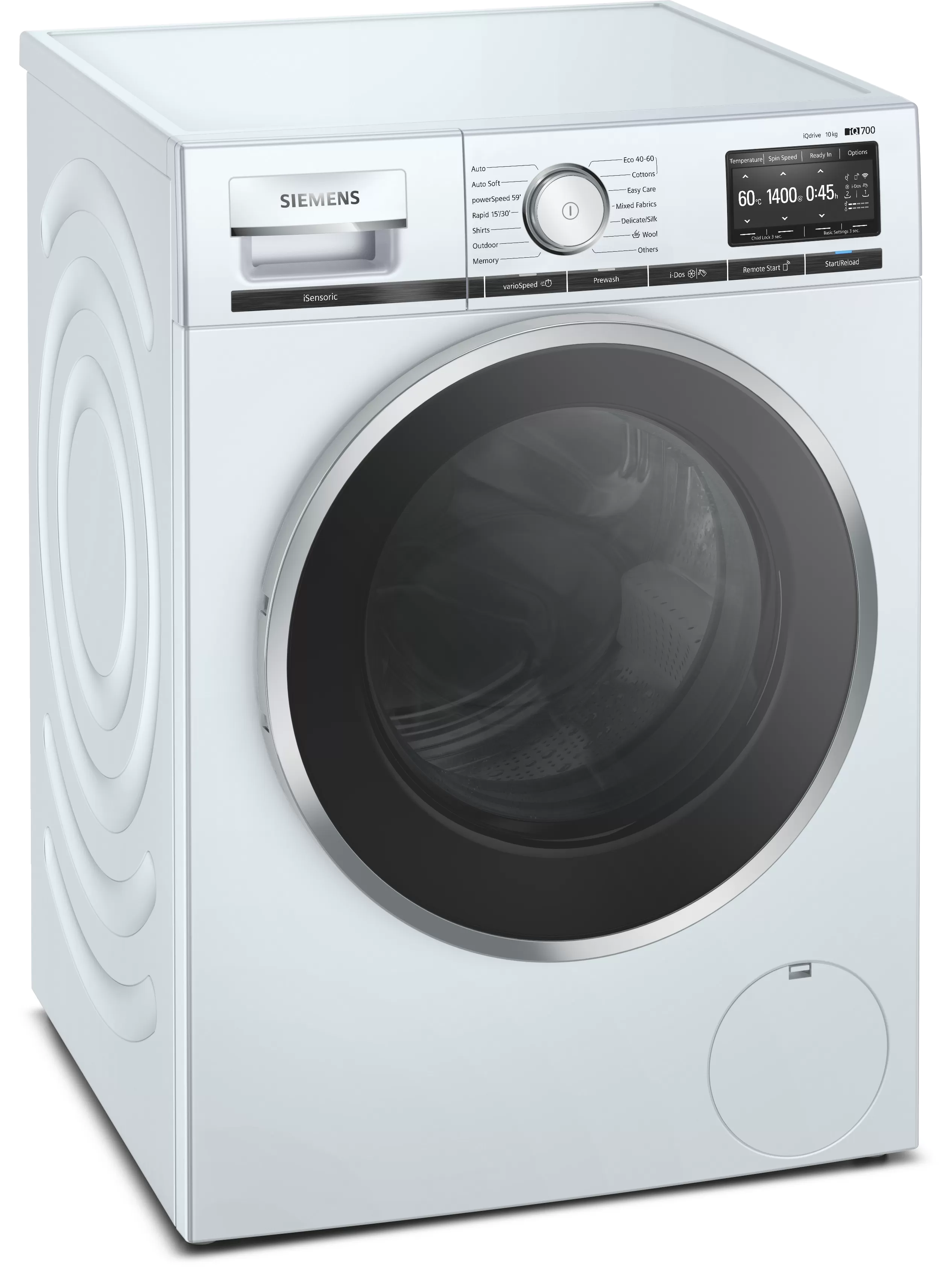 Download Siemens WM14XEH5GB IQ700 user manual in PDF format: WM14XEH5GB
Wifi-enabled washing machine with Home Connect: Enjoy the intelligent automatic dosing system and save time with the integrated speedPack.
The precise i-Dos automatic dosing system measures the detergent for you and helps you save water and detergent.


Measure precisely – easier than ever: i-Dos.

Easier than ever before because the first integrated precision dispensing system determines exactly how much detergent and fabric softener your laundry needs. This depends on different factors such as the type of textiles, load size, water hardness and degree of soiling. It will efficiently calculate the dosage down to the last millilitre – to ensure even better fabric care and first-class washing results. Incorrect dosage not only leads to poor washing results and damages the fabric, but it also increases water and energy consumption. The new iQ 800 with i-Dos uses only as much detergent, water and energy as is actually necessary.
Access and control your washing machine, no matter where you are – with the easy-to-use Home Connect App. (available for iOS and Android)


Home Connect

The world of technological innovation constantly progresses. Step by step, more appliances become more connected and intelligent. With Wi-Fi-enabled Siemens home appliances and Home Connect, this development finally makes its way into your home. The synergy of Wi-Fi-enabled appliances, intelligent so"ware and an intuitive app offers a wide range of options. While some ease the workload and some open up completely new possibilities, all of them make everyday life as efficient and comfortable as never before. And you can spend more time on the things you like. For a life less ordinary.

Stain removal programme for removing the 16 most stubborn stains.


stainRemoval

Get rid of 16 different kinds of stains by the push of a button – no more chemical or manual pretreatment needed. Every stain is different and needs a special treatment to be removed, whether it's tomato, grass, or red wine. And stainRemoval always knows exactly how. Beginning with the 'temperature sensor', controlling the right temperature concerning the molecular properties of the stain. And the 'flow sensor' and the 'load sensor Plus' supply just the right amount of water necessary to completely wash it out. Now 16 most stubborn stains can reliably and automatically be removed. stainRemoval – powered by iSensoric.

The TFT display comfortTouch offers the highest level of easy handling combined with maximum functionality.
Outdoor programme for gentle cleaning of outdoor textiles
Additional information
Energy Efficiency Class¹: B
Energy² / Water³: 56 kWh / 49 litres
Load capacity: 1 – 10 kg
Programme duration⁴: 3:58 h:min
Spin drying efficiency class: B
Spin speed**: 400 – 1400 rpm
Noise level: 71 dB (A) re 1 pW
Noise efficiency class: A
Standard programmes: cottons, easy care, delicates, wool hand wash
Series / project: W_F55C-Xi
Special programmes: drain, automatic soft, automatic, drum clean with reminder, shirts/blouses, jeans/dark laundry, Outdoor, PowerWash 59, Spin, mixed fabrics, single rinse, duvet, rapid 15 minute quick wash
Home Connect: Remote Monitoring and Control, iService Remote, Energy management
i-Dos: automatic dosing of liquid detergent and softener
autoStain removal system (ASR) with 16 stain options
Options: extra rinse cycles, less ironing, Soaking, auto stain (16 options), i-DOS 2.0 1, i-DOS 2.0 2, night wash, speedPerfect, Rinse hold, prewash, waterPlus
Touch control buttons: basic settings, On/off, Ready in, stain selection, i-DOS 2.0, options, remote start, start/pause with reload function, temperature selection, varioSpeed, spin speed selection/Rinse Hold
Reload Function: Stop the washing machine to add any forgotten items of laundry to the drum.
TFT display: Clear text and high resolution for easy use with display of programme indication, temperature selection, spin speed, remaining time, 24 hour time delay and consumption indication
powerSpeed system: better washing results in less time
Drum volume: 70 litres
drum interior light
waveDrum: for highly effective and extremely gentle laundry care
drum clean with reminder function
Large chrome-black door with 180° opening
Reload function: Pause the already running washing machine to add any forgotten items of laundry to the drum.
iQdrive with 10 year warranty
EcoSilence drive with 10 year warranty
waterPerfect Plus: for efficient use of water even with small loads thanks to intelligent sensor technology.
Consump indicator energy+water, autoLoad Plus, autoStain removal system (ASR)
antiVibration Design – for more stability and quietness
Sound insulation by additional noise reduction material
hydroSensor monitors and controls rinse cycles
aquaStop: Siemens home appliance with lifetime warranty against water damage*
Consumption indicator: Information about water and energy consumption prior to start of programme
Jog dial with integrated on/off control
Foam detection system
Detergent over dosage display
Out of balance load adjustment
Electronic child safety package
Acoustic signals: Multi-tone
Slide-under installation
Dimensions (H x W): 84.8 cm x 59.8 cm
Appliance depth: 59.0 cm
Appliance depth incl. door: 63.2 cm
Appliance depth with open door: 108.5 cm