Fully automatic coffee machine
EQ.500 integral
TQ503GB1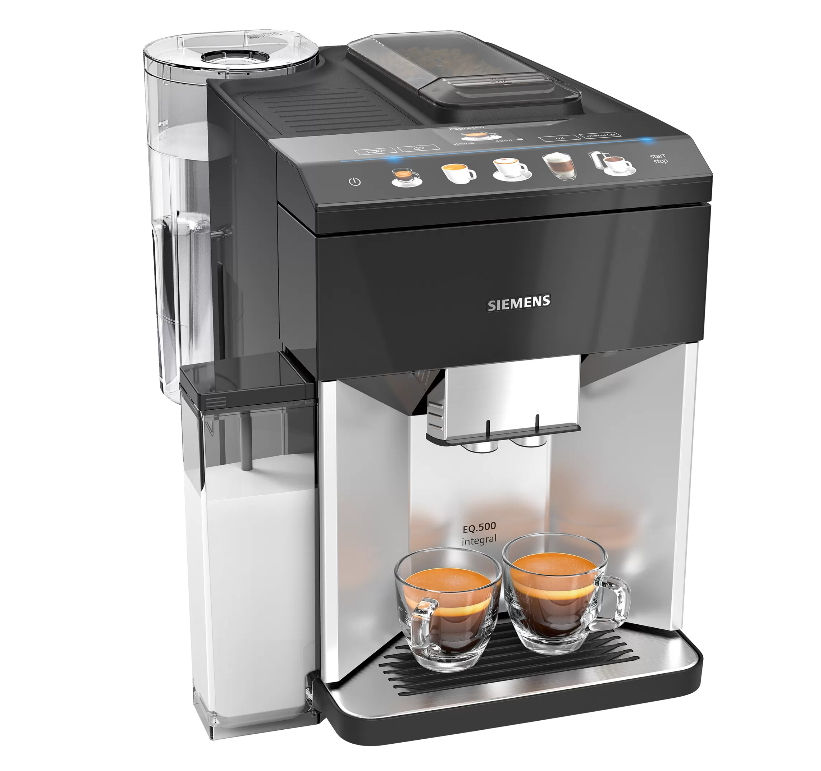 Download Siemens EQ.500 user guide in PDF format: Siemens-EQ.500_EN
Less bitter tasting extra-strong coffee thanks to the aromaDouble Shot double grinding and brewing process.
Fully automatic steam cleaning and optimal hygiene thanks to autoMilk Clean.


autoMilk Clean: automatically cleans the milk system.

The preparation of really good, aromatic coffee specialities is a delight – cleaning the milk system isn't. Which is why Siemens developed autoMilk Clean. This fully automatic steam cleaning system activates after every drink, ensuring perfect hygiene and relieving you of having to clean the milk system every day. Milk residue simply doesn't get a chance to develop – allowing you to just sit back and enjoy a great cup of coffee.

Grind the perfect aroma out of every bean and long-life guarantee with ceramDrive.


Finely ground with a fuller flavour: ceramDrive.

The high-quality ceramDrive grinder grinds the coffee beans to a very even consistency, allowing all the different notes to develop during the brewing process — for an exceptionally aromatic coffee experience. Unlike steel grinders, ceramic is very robust and stays sharp for longer, meaning long-lasting premium-quality coffee is guaranteed.

Coffee making has never been easier thanks to the full colour, intuitive coffeeSelect Display.


Makes simple operation a unique experience: coffeeSelect Display.

Thanks to the coffeeSelect Display, the perfect coffee experience starts the moment you switch on the machine. The large user interface presents an inviting selection of aromatic coffee and milk specialities that can be accessed by simply touching the sensor controls – making your coffee experience as seamless as possible.

Optimum preparation and perfect taste thanks to the seamless technology of the iAroma System.
Additional information
Coffee variety at the touch of a button: Espresso, Espresso macchiato, Coffee, Cappuccino, Latte macchiato. Quick and convenient.
Additional coffee specialties for the outstanding moment: Americano, Flat white.
aromaDouble Shot – Extra strong coffee without compromise in aroma
Easy handling through the colorful and intuitive coffeeSelect Display.
Removable 1.7 litre water tank
"ceramDrive" – ceramic grinding unit
One-touch coffee milk specialities with especially fine-pored milk froth thanks to an innovative milk frother
In addition to beverages also available separately: milk foam, hot water
Reduced heat up time: fastest first cup
Water pump with 15 bar pressure
Separate container for pre-ground coffee
Easy maintenance and quick cleaning are both ensured with the easily accessible service door on the appliance front
Removable brewing unit: Easy and hygienic cleaning under running water
Automatic quick rinse programme when switched on or off
Integrated milk container: easy to remove, fits into the fridge door, dishwasher-proof
steam blast: Fully-automatic steam cleaning of the milk system after every beverage
All milk nozzle parts are easily removable, separable, easy to clean and dishwasher proof
Removable drip tray including container for coffee grounds
Fully automatic descaling & cleaning programme
Bean container with aroma preserving lid for up to 270grams
Adjustable grind settings (multilevel)
Different display languages available
Child lock: prevents unintended use of machine
Wattage: 1500 W
Included accessories: 1 x test strip, 1 x welcome-Box
| | |
| --- | --- |
| Brand | Siemens |
| Product name / Commercial code | TQ503GB1 |
| EAN code | 4,242,003,875,445 |
| Appliance type | Fully Automatic Espresso Maker |
| | |
| --- | --- |
| Rotating appliance | No |
| Tank design | Brita water filter, Integrated, Removable, Transparent |
| | |
| --- | --- |
| Dimensions | 373 x 276 x 452 mm |
| Number of cups of espresso/cappuccino | 1-2 |
| Weight | 8.545 kg |
| | |
| --- | --- |
| Number bean container | 1 |
| Type of control | Electronic |
| Display type | TFT-touchdisplay |
| baristaMode | No |
| Power on indicator | Yes |
| Coffee grounds container | Yes |
| Programming of | Child-proof lock, Coffee temperature, Demo modus, Key sound, Language, turn-off time, Water filter, Water hardness |
| Programming | Yes |
| Safety device | Temperature protection |
| Dialog-Display | Yes |
| | |
| --- | --- |
| Connection Rating | 1,500 W |
| Frequency | 50 Hz |
| Plug type | GB plug |
| Nominal power | 220-240 V |
| | |
| --- | --- |
| Included accessories | 1 x test strip, 1 x welcome-Box |