GARDENA Fountain Pump Set FP 500 / FP 750 / FP 1400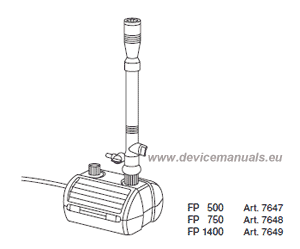 Download user manual in PDF format: FP-500, FP-750, FP-1400
GARDENA Fountain Pumps have been designed for private use. They are not designed for operating watering tools and systems. The pumps may be used indoors as well as outdoors.
The pump must not be operated when there are people in the water. Swimming pools and garden ponds should be designed
according to international and national design regulations.
The filter housing can be mounted on a firm surface (e.g. a flag stone) for more secure positioning.