GARDENA UVC-pond filter F 3000 / F 6000 / F 9000 / F 12000 – Art. 7926, Art. 7927, Art. 7928, Art. 7929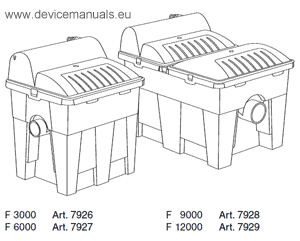 Download instruction user manual in PDF format: f3000-EN
The GARDENA UVC-pond filter is intended for private use in domestic gardens and allotments and should only be used out of doors for cleaning garden ponds with and without fish.
The GARDENA UV Pond Filter cleans the pond water biologically and mechanically and reduces the growth of algae. Algae is bound together and pathogens (particularly in fish ponds) are destroyed.
Bacterial Activity
Extensive bacterial activity arises from +10 °C onwards.
The filter system is a biological system and therefore, when newly installed, needs a few weeks until it is fully effective. If possible, the filter should be in permanent operation from spring to autumn and should not dry out.