iQ500
Washing machine, front loader
9 kg
1400 rpm
Download User manual Siemens WM14VMH4GB in PDF format: WM14VMH4GB
Wifi-enabled washing machine with Home Connect: Save time with the integrated speedPack and remove the most stubborn 4 stains with stainRemoval system.
speedPack XL – Speed up programmes, set the duration or wash in just 15 minutes.
Access and control your washing machine, no matter where you are – Home Connect App (Android and iOS)
stainRemoval system – removes four types of stubborn stain without pre-treatment.
Outstanding readability and intuitive menu navigation – LED direct touch display
Outdoor – Gentle cleaning for water-repellent fabrics, seams and membranes.
Additional information
Design: Freestanding
Colour/material: White
List of programmes: Delicates programme, Easy-care programme, Whites and coloureds programme, Woollens hand wash programme
Wash optimization: drain / spin, extra rinse, hygiene, less ironing, mixed fabrics, On/off, Outdoor, prewash, rapid 15 minute quick wash, Ready in, shirts/blouses, single rinse, spin speed selection, stain selection, start/pause with reload function, temperature selection, varioSpeed
Noise level washing: 48 dB(A) re 1 pW
Noise level spinning: 69 dB(A) re 1 pW
Water protection system: Multiple water protection
Removable work top: No
Energy Efficiency Class: A
Airborne acoustical noise emissions: 69 dB(A) re 1 pW
Airborne acoustical noise emission class: A
Maximum capacity in kg: 9.0 kg
Energy Efficiency Index for the washing cycle: 50.9
Washing efficiency index eco 40-60 programme: 1.040
Spin-drying efficiency class of eco 40-60 programme: B
Energy consumption in kWh per kg per cycle of eco 40-60 programme: 0.484 kWh
The spin speed in rpm of the eco 40-60 programme at rated capacity: 1,400 rpmDimensions of the product: 848 x 598 x 590 mm
Depth with open door 90 degree: 1,063 mm
Drum volume: 65 l
Height of removable worktop: -2 mm
Height-adjustable by: 1.20 cm
Weight: 72.3 kg
Length of electrical supply cord: 210 cm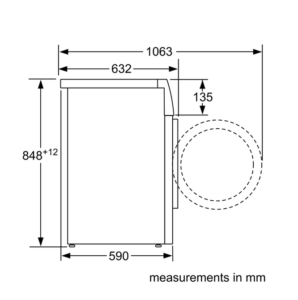 i-Dos
The i-Dos dispenser automatically adds the right amount of detergent: No
Load display with dosage recommendation: No
Reload function: Yes
Loading sensor: Yes
Degree of dirtiness recognition: No
Digital countdown indicator: Yes
Drying progress indicator: LED-display
Programme end indication: Acoustic, LED-display
Turbidity sensor: No
Water plus: No
waterPerfect: No
waterPerfect Plus: Yes
Start delay options
Continuous
Self adjusting water level to load: Yes
Interior light: Yes
varioSoft drum
varioSoft drum system for highly effective or extremely gentle laundry care: No
iQdrive
Intelligent, durable and quiet iQDrive motor for highly effective and efficient laundry care: Yes
Hot & cold water intake: No
Speed options
varioSpeed
Speed up the washing process by up to 65% with the varioSpeed option: Yes
Speed programme 15/30: Yes
speedPerfect
With the option speedPerfect, get perfect washing results in up to 65 % less time: Yes
Home Connect: Yes
Home Connect Features
Energymgmt Photovoltaics, Remote Diagnostics, Remote Monitoring and Control
Safety
Balance control: Yes
Foam control: Yes
Water protection system: Multiple water protection
Child Safety: Yes