GARDENA Dirty Water Pump 18000 SP Inox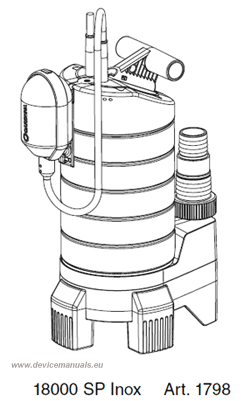 Download user manual in PDF format: 18000SP-Inox
Liquids which can be handled by the GARDENA Pump are the following:
clean and contaminated water (max. particle size  18000 SP Inox = 38 mm), swimming pool water
(prerequisite is the recommended dosage of additives) and soapy water.
The pumps are fully submersible (waterproof sealed) and can be immersed in the liquid down to a depth of 9 m.
The residual water level of approx. 1 mm is only reached during flat suction in the manual operation mode. If the water level is lower than 25 mm, you can accelerate flat suction by switching the pump off and on 2 to 3 times.