GARDENA Pressure Tank Unit electronic plus with Dry-Running Safety 5000/5 Inox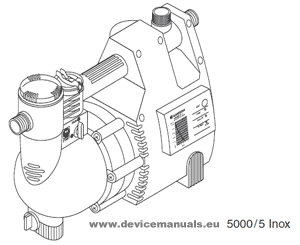 To ensure the pump is stable and to prevent it from slipping, screw the fixing plate supplied onto a suitable surface.
Stand both feet of your Pressure Tank Unit on the fixing plate. Set up the pump such that a suitably large container can be positioned below the drain screw for emptying the pump or unit. If possible, install the pump higher than the surface of the water to be pumped.
Note:
If this is not possible, install a vacuum-resistant shut-off device between the pump and the suction hose, for example for cleaning the integrated filter.
GARDENA Pressure Tank Units have been designed for private use around house and garden. Pressure Tank Units are predominantly used for operating watering implements and systems in private gardens.
Download user manual in PDF format: 5000-5-Inox