GARDENA Pond Filter and Fountain Pump Set FFP 3000 / FFP 5000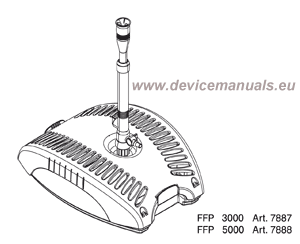 Download user manual in PDF format: FFP-3000-5000
A Fit the Fountain to the Pond Filter:
Click the nozzle tube 1 into the ball joint 2.
Screw the nozzle tube 1 on the threaded spigot on the pump.
Screw the desired fountain insert 3 a) / b) / c) / d) into the nozzle tube 1.
Side outlet 4 : Additional consumers (e.g. gargoyles) can be
connected to the side outlet 4 [9 mm /13 mm (1/2")]. The
quantity of water can be adjusted via the regulator 5.
B Fit the stepped nipple (1/ 2" – 3/4") to the Pond Filter:
The stepped nipple 6 can be used to supply features such as a stream or a source stone.
1. Screw the stepped nipple 6 on the threaded spigot on the pump, having first checked that the O-Ring z is in place O within the stepped nipple.
2. Push the hose on to the stepped nipple 6.
Note: If a 3/4" hose is used, the front part of the stepped nipple can be cut off using a saw.